Hi riders, these last days we have been testing an important complement for all fixed gear riders...a helmet! In this case, the helmet we have reviewed is the last model from the famous helmet brand
MET
, the Forte.
Maybe, you have seen this helmet in their last promotional video with
Dave Noakes
and
Juliet Elliot
called "We are italians". Well, we have made our review and here we want to show you our opinion and pics.
MET Helmet Forte review
As you can see in the pictures, the structure of the
MET Forte
helmet is not the classic "nutcase" for urban riding, it's designed to offer you a high aerodynamic helmet. The in-mould structure has three layers (from inside to outside): variable density polystyrene, silkscreen printing and high strength polycarbonate. In this case, our helmet has the Italian flag colors red, green and white, but you can buy this helmet in other colors: white, black, black-blue, white-red-grey, black-grey-white or white-yellow-grey, but, personally, the Italian colors is the most beautiful...
The video "We are Italians" with Dave Noakes and Juliet Elliott:
The
MET Forte
helmet has some
interesting features, for example, the occipital retention system, as you can see in the picture, its role is to ensure that the helmet is held firmly on your head, we have use the helmet with a cycling cap and the fit was great, really comfortable and light. Also, a dial at the back of the helmet for easy one-hand size adjustment, as MET says, the internal mechanism was designed for precision and reliability.
Another interesting feature is the reflective rear stickers, it help you to be visible, at night or tunnels, the reflective sticker placed at the back of the helmet makes you visible to drivers approaching from behind.
About the inside of the helmet, we can talk about the anti-allergenic interior pads, this pads are hand washable and
easily removable.
More technical info interesting for advance riders, the helmet has a cooling factor 6,5, this factor is calculated using fluid flow analysis, and a head contact surface 65, it indicates in percentage how much of the head is in contact with the helmet.
Conclusion
Nice, really nice helmet
Comfortable, easy to adjust
Strong but light, really light only 240 gr (Size M) or 260 gr (Size L)
Highly recommended for your road rides or urban rides
Retail price: 75€
About MET Helmets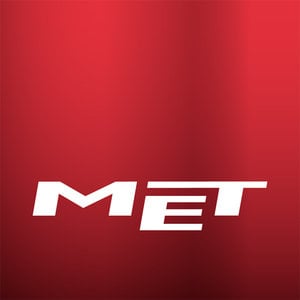 MET S.p.A is one the world's leading manufacturers of bicycle helmets. Our headquarters are located in the heart of the Italian Alps.
MET
has always been synonymous with some of the finest values of this Alpine heritage.
You can find more info about the brand in their social neworks:
Website:
www.met-helmets.com
Facebook:
https://www.facebook.com/pages/MET
Twitter:
https://twitter.com/met_helmets
Instagram:
http://instagram.com/MET_helmets
Interested in send us your products to review?